4 -hours - $500
8+ Hours - $800
Season: May - October
Locations: Portsmouth, NH. - Massachusetts - Cape Cod
Arriving in May and feeding until October these veracious predators are the target species for saltwater anglers in New England. This exciting fish can be found in a multitude of locations feeding on a wide variety of prey. We use fly rods and light spinning gear to target Striped Bass crushing crabs on shallow flats, ambushing prey along the rocky coast and blitzing bait in the open ocean. Whether your a salty vet or an aspiring angler, chasing Sripers is the best way to experience our historic seacoast and iconic fish.
Sea Run Charters strongly encourages Catch and Release fishing but will allow one striper between 28"-32" to be taken per trip.
6 Hours - $600
Season - Mid September - November
Locations: Falmouth, MA. - Newport, RI.
False Albacore or 'Albies' as they are affectionately known, are some of the finest game fish one can catch on Fly or Light Tackle. These speedsters swim upwards of 40mph and will often run hundreds of yards in mere seconds after being hooked. They show up on Cape Cod in mid September and can be caught until mid to late November in Rhode Island. If you have never experienced Albie fishing or already have a case of 'Albie Fever' you owe it to yourself to book a trip aboard my 23' Jones Brothers, a boat that was built to chase these awesome creatures.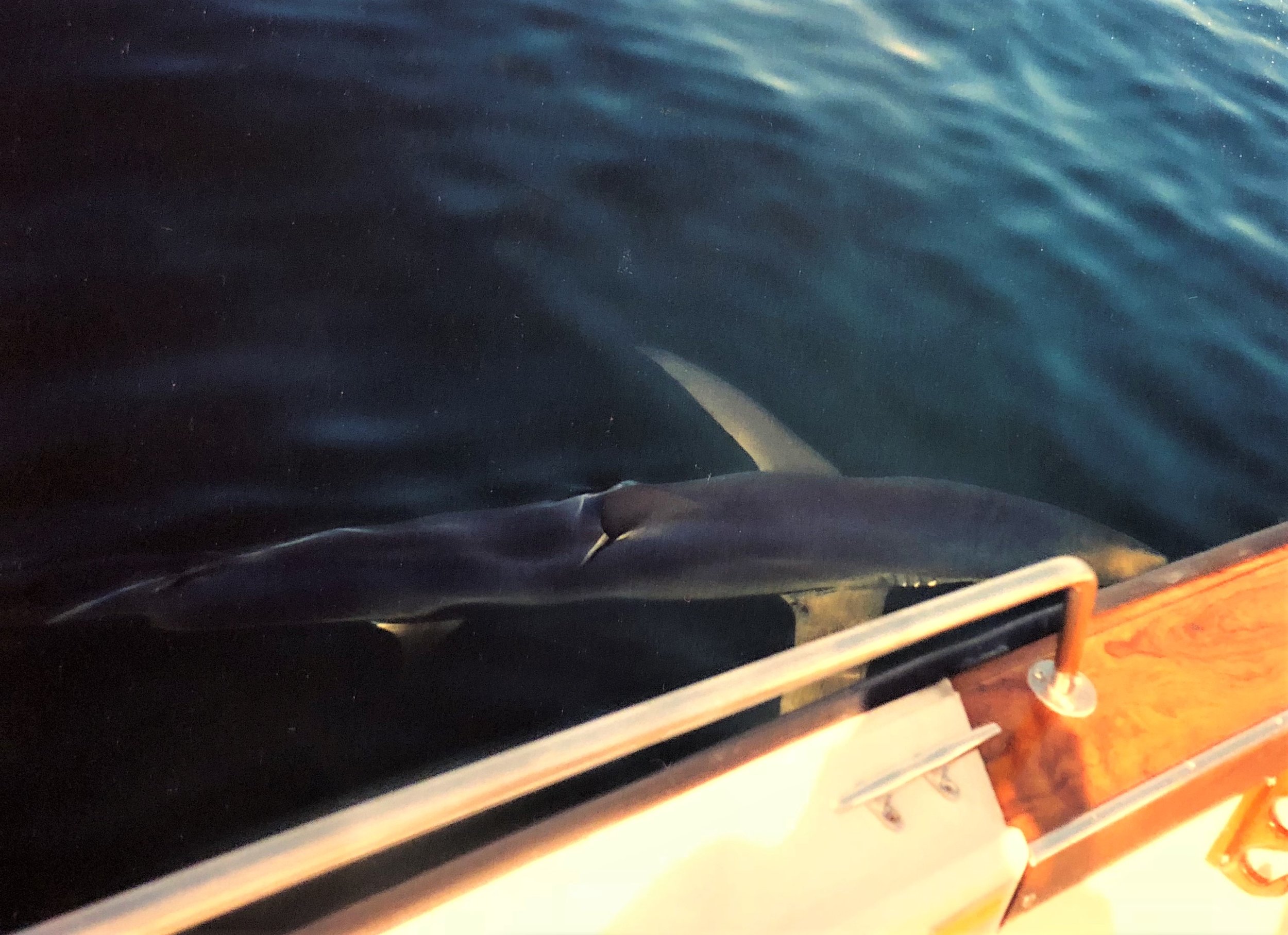 8+ Hours - $800
Seasons: July - September.
Locations: Portsmouth, NH.
Duuun-Dun, Duuun-Dun. Few things get a fisherman's heart pounding like seeing the dorsal fin of a large shark slowly working its way through the waves. We leave from Portsmouth Harbor and head offshore for a day chasing some of the largest fish in New England. It's not uncommon to see Whales, Dolphins, Ocean Sunfish and Bluefin Tuna on these trips. We use the latest in heavy duty offshore spinning gear, allowing for an enjoyable and comfortable experience when fighting these giants. To make the most of our time spent offshore, jigging for Cod, Haddock, Pollock and Halibut is a fun way to bring dinner home while drawing in Blue, Mako, Porbeagle and Thresher Sharks.
Group size:
1-4 Anglers (maximum 3 recommended for fly fishing trips)
Charters include:
Fishing licenses.

Top of the line fishing equipment. Fly, light tackle and offshore rods and reels; lures and flies, etc.

Digital photography of your trip.

Bottled water and snacks included on all trips.

Sandwiches provided on 8+ hour charters.
Guests should bring:
Polarized sunglasses, or appropriate eye protection.

Non-Marking shoes.

Warm clothing as necessary. Its always a little cooler on the water.

Sunblock.

Motion sickness medication if necessary.

Any additonal fishing gear you would like to use.
Locations:
Portsmouth, NH.

Hampton, NH.

Newburyport, MA.

Ipswitch, MA

Boston, MA

Falmouth, MA.

Newport, RI.